This brief tutorial explains the first steps to take in the app.
1 - Initial setup
During the first app opening, you can select the language and the currency used. To change them later, go to the "Settings" page. You can move between pages with the left menu. To open it, press the left button in the top menu of each page. You can find a useful help section for each specific page by pressing the 3-dot button in the top menu.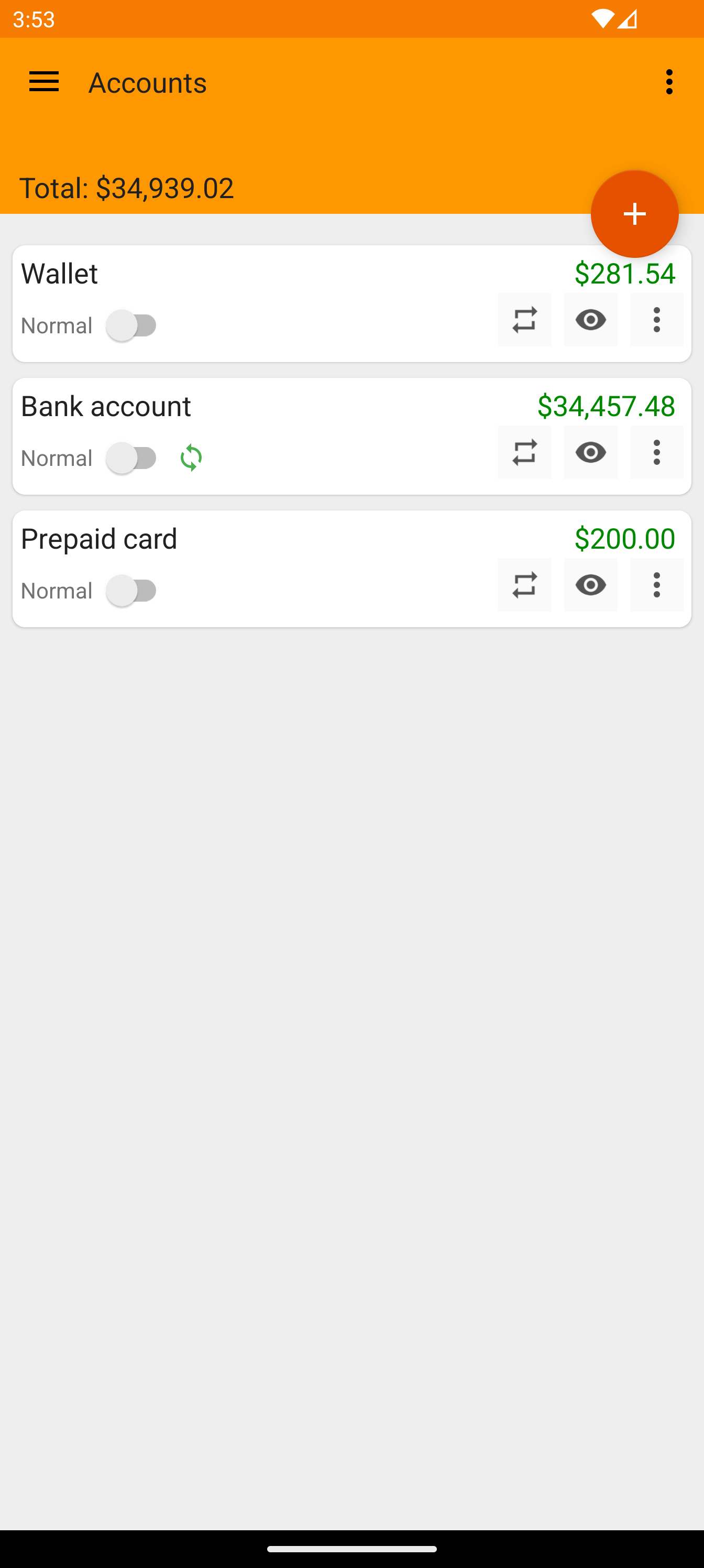 2 - Create your bank accounts
The app starts with a default account: wallet. In the "Accounts" page you can create your other accounts, such as your bank account. To do that, press the "+" button. Set as initial amount the current account value. (You can leave it at 0 and edit it later) This feature, like many other, is optional. For a basic tracking, you can insert all your transactions in the wallet. If you instead want to automatically download the transactions from your bank,
click here
. To learn more:
Accounts guide
,
Cards guide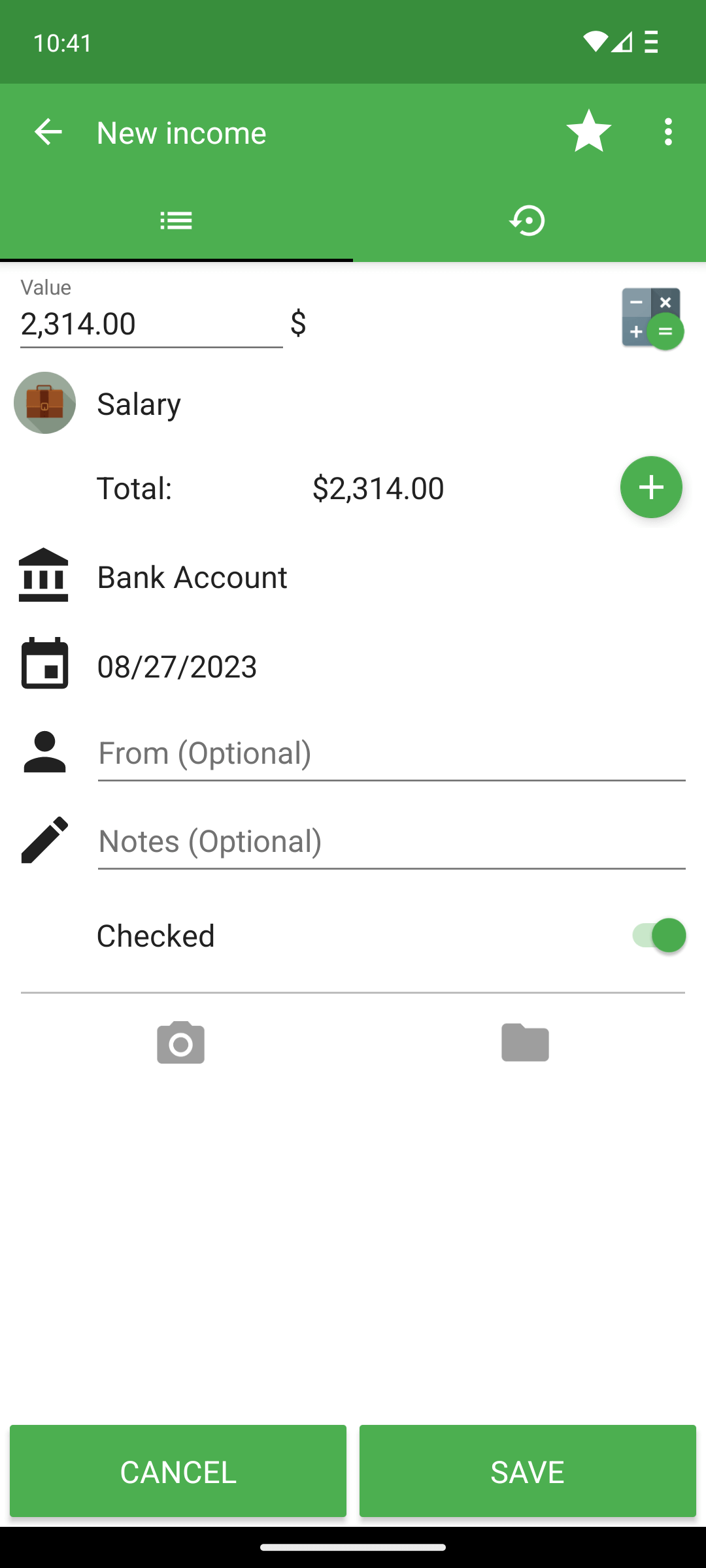 3 - Insert your first transaction
To create your first income or expense, press the "+" button at the bottom-right of the "Overview" or "Transactions" page. The mandatory data for a transaction are value, category, account and date. All the other fields are optional. You can also add more categories to the same transaction. To learn more:
Transactions guide
4 - Customize the categories
Fast Budget has several default categories that covers a general usage. In case you have particular needs, you can modify them or create the ones you prefer. You can manage the categories in the "Preferences" page, "Categories management" section. To learn more:
Categories and subcategories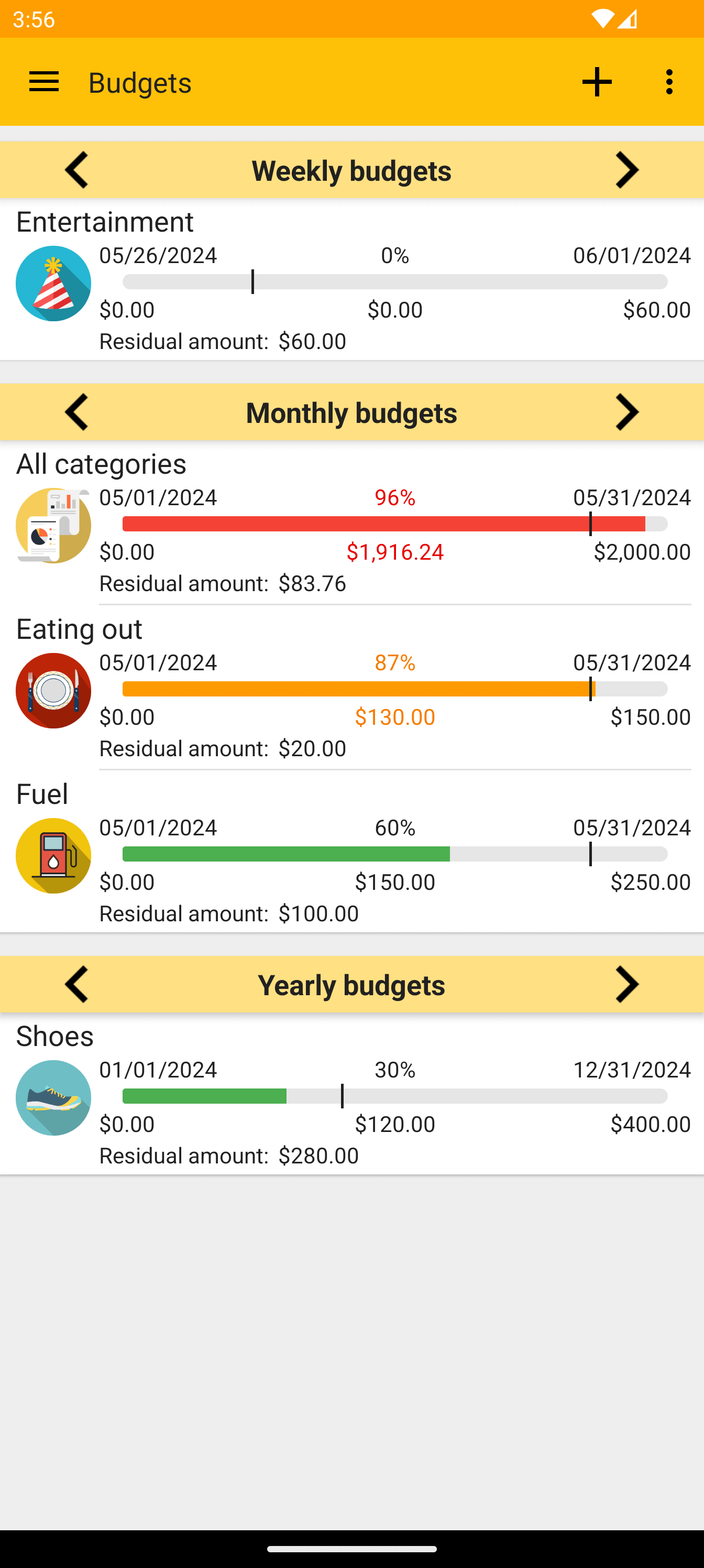 5 - Set your budgets
If you are interested in this feature, you can create your budgets in the "Budgets" page. Budgets are used to track and limit your expenses over time. The budget value is automatically calculated from the existing expenses with the same category. To learn more and see an example:
Budgets guide
6 - Other customizations
As soon as you become familiar with Fast Budget, you can start to customize the other preferences and settings. To speed up the transactions creation, you can create some transaction templates in the "Preferences" page. To learn more:
Transaction templates guide
To avoid data loss, like if you accidentally uninstall the app or lose the device, it is highly recommended enabling the backups on Dropbox or subscribe to a plan. You can enable the backups on Dropbox in the "Settings" page. You can change the first day of the month in the "Settings" page, "Date" section.
7 - Available plans
The Pro version and the other plans can be purchased in the "Store" page within the app. To secure and sync your data between devices, an "Advanced" or higher plan is required. You can check all the features available for each plan in the "Store" page. EU users can also purchase a "Premium" or "Ultra" plan in the web app. Contact the
support
for any questions. To learn more:
Purchases available
,
How subscriptions works